Providing a quality service since 1969
Bowen Awnings
---
Caravan and Motorhome Awnings for Sale
Estd 1969


Caravan awnings - Motorhome Awnings

Secure payment
Over the phone and online payments


Peace of mind
order now and reserve your awning to pay later

Need help
01834 871763 - Contact-us
why choose bowen awnings for your new awning?
---
Since 1969 we have sold caravan awnings, motorhome awnings, porches, sun canopies, roll-out awnings and accessories.
Bowen Awnings always like to provide excellent customer service as well as offering great discounts and special offers.
If there is any way we can make the purchasing process easier then get in touch.
our latest product
our expertise
Our range of products
The new Walker Concept is a fantastic new 'Heavy Duty' awning made of a tough PVC "All Weather" material; both sides coated and washable. The Walker Concept is ideal for continuous, four seasons use.
All the windows in the Walker Concept have window blinds with zips. Both the side panels have full size ventilated mesh windows. The roof poles are 28mm steel.
The Walker Concept is available with a depth of 240 cm or 280 cm.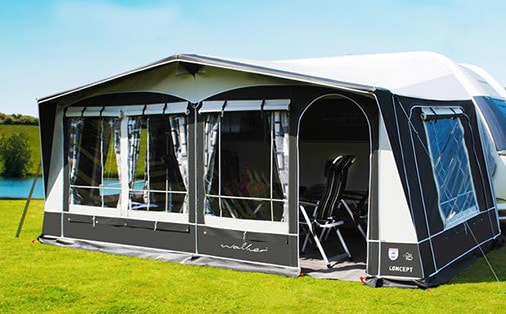 OUR EXPERTISE IN CARAVAN AWNINGS FOR SALE
JEFF BOWEN AWNINGS IS A LEADING CARAVAN AWNING DEALER IN THE UNITED KINGDOM. ESTABLISHED IN 1969, WE HAVE DEVELOPED AN EXPERTISE IN CARAVAN AND MOTORHOME AWNINGS LIKE PORCH AWNINGS, INFLATABLE AWNINGS, SUN CANOPIES AND CARAVAN ACCESSORIES.
DISCOVER THE BEST CARAVAN AWNINGS BRANDS: WALKER, CAMPTECH, FIAMMA, THULE OMNISTOR & TRIGANO/EUROVENT.
JEFF BOWEN AWNINGS OFFER GREAT CUSTOMER SERVICE AND AFTER SALES CARE WITH AFFORDABLE PRICES.
FOR MORE INFORMATION, PLEASE CONTACT US ON 01787 882277.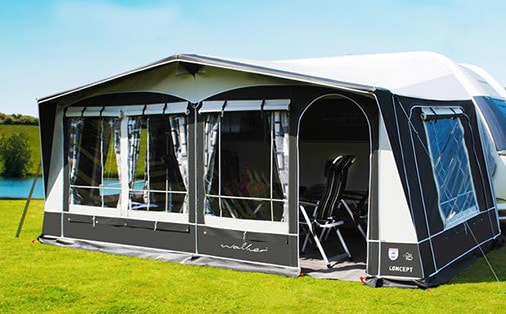 Awnings for sale : our product assortment
TO HELP YOU FIND THE BEST AWNINGS FOR YOUR CARAVAN, WE LET YOU CHOSE AMONG A WIDE RANGE OF PRODUCTS :
FULL AWNINGS: TO DOUBLE YOUR LIVING SPACE

PORCH AWNINGS: TO GET EXTRA SPACE WITHOUT TOO MUCH EFFORT

MOTORHOME AWNINGS: ADAPTED TO MOTOR HOMES

LIGHTWEIGHT AWNINGS: INFLATABLE AWNINGS
ON OUR WEBSITE, YOU WILL FIND QUALITY CARAVAN AWNINGS FROM THE BEST BRANDS : THULE-OMNISTOR, WALKER, CAMPTECH, FIAMMA AND TRIGANO/EUROVENT.
FEEL FREE TO BROWSE THROUGH OUR WEBSITE TO FIND THE AWNING THAT BEST SUITS YOUR DEMANDS!